Homemade Cinnamon Rolls
Katarina (Haven) Beches shares her favorite recipe to make cinnamon rolls from scratch
Quarantine taught me three things. One, that I will never take advantage of being able to physically go to school. Two, that throughout trials and tribulations, reading will always prevail as the ultimate escape. And three, that when you don't want to read about chemical compounds or rewatch "The Office" for the fifth time, baking is always an option!
The sheer quantity of batches of cookies, cakes and rolls I have made during quarantine is quite impressive if I do say so myself. You see, when I realized that I would not, in fact, be returning to school in the fall as I hoped, I made a bucket list of all the possible baked goods I have always been too intimidated by or freaked out to make. One of the items that fell under this list was cinnamon rolls.
A year ago, if you had asked me if I knew how to successfully bake a cinnamon roll— along with that fantastic cream cheese frosting—I would have run for the hills. Why would an intellectual human being go through the trouble of making, proofing and then baking something that can be bought, with ease, at Trader Joe's for $4.99? The old me would have said it was not worth the effort and "too much work." 
Oh, how wrong I was. Because truly, once you've tried homemade cinnamon rolls, you really can't go back to whatever Trader Joe's is packing in those little metal cans. The difference is quite astounding. And the best part? Homemade cinnamon rolls really aren't that hard to make. The recipe below is quite easy to follow and takes minimal time. In fact, I've already made cinnamon rolls four times and they've all been a success! So put on your aprons, get out that cinnamon and check out the following recipe! 
Ingredients
Cinnamon roll dough:
1 cup milk warm (105 degrees F)

½ cup + 1 TBS granulated sugar divided

1 TBS Active dry yeast

2 large eggs room temperature

6 TBS butter melted

1 tsp pure vanilla extract

4 to 4 ½ cups all-purpose flour

1 tsp sea salt

1 tsp ground cinnamon
Cinnamon sugar filling:
1 cup brown sugar packed

2 ½ TBS ground cinnamon

6 TBS butter softened
Cream cheese frosting: 
1 8 oz package cream cheese, softened

¼ cup butter softened

2 cups powdered sugar

½ tsp pure vanilla extract

1/8 tsp salt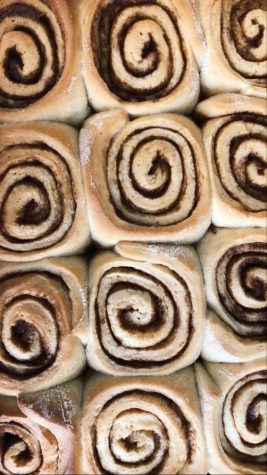 Directions:
Make the cinnamon roll dough:
Warm milk in the microwave milk for 45-60 seconds. It should be warm but not hot to the touch (about 105 degrees F).

Place milk into the bowl of your standing mixer, then add 1 TBS sugar and 1 TBS yeast to the warm milk. Stir and let it sit (proof) for five minutes or until it becomes foamy.

Add the ½ cup sugar, butter, eggs, and vanilla to the mixture in the bowl of your standing mixer. Use a dough hook to stir until combined

Add 4 cups flour, salt, and cinnamon and stir the dough hook, starting on low and increasing to high.

Knead dough in the standing mixer until a large ball is formed. The dough should be smooth and only slightly tacky to the touch. If the dough seems too sticky and is not forming a ball, add more flour 1 TBS at a time until a smooth ball is formed.

Transfer dough to a floured surface and knead with your hands until it is smooth and elastic (about 3-5 minutes). Form it into a ball.

Grease a large bowl and place the dough inside.

Cover the bowl with a warm, damp towel and put the bowl in a warm place to rise.

Let the dough rise in a warm place about 1 hour or until the dough has doubled in size.
Make the filling, assemble, and bake:
While the dough is rising, make the filling. In a small bowl, combine butter, brown sugar, and cinnamon until the mixture is homogeneous (uniform throughout). Set aside.

Alternatively, you can combine the cinnamon and sugar. Then melt the butter and brush it on the rolled dough, then sprinkle the cinnamon sugar on the butter-brushed dough (I think this way is easier!).

Assemble cinnamon rolls

Sprinkle a large work surface with flour.

Gently press the gas out of the dough and form it into a rectangle.

Roll the dough into a 24×12" rectangle, about 1/4 inch thick.

Spread the filling all over the dough using greased hands or a greased spatula. This process can seem difficult but it gets easier as you spread it. (Alternately: if you only combine the cinnamon and sugar, then melt the butter and use a pastry brush to spread the melted butter all over the dough. Then sprinkle the dough with cinnamon sugar and pat it down gently to ensure it sticks).

Roll up dough cut into 12 equal-sized rolls (feel free to measure and cut each roll to be 2" long).

Line a 9×13 inch glass baking dish with parchment paper and lightly grease. Then place rolls in 4 rows of three, evenly spaced.

Cover and let rise until nearly doubled, about 30 minutes, and preheat the oven to 350℉

Bake cinnamon rolls

Once rolls are doubled in size, bake them in the preheated oven until golden brown, about 18-20 minutes. They will rise more in the oven (NOTE: check the center cinnamon rolls and make sure they are baked through. If your oven bakes cool or unevenly you may need to increase the baking time up to 10 minutes longer. If the top starts to brown before the center is baked, tent the baking pan with foil to prevent further browning).
This recipe is courtesy of: https://joyfoodsunshine.com/cinnamon-rolls-recipe/#wprm-recipe-container-13774 
Leave a Comment
About the Contributor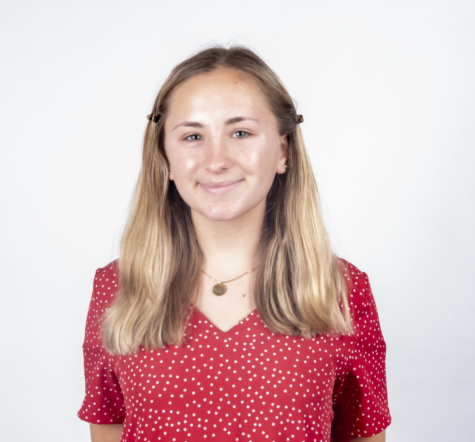 Katarina (Haven) Beches, Editor In Chief
Time is valuable. Don't waste it reading my bio. Read my porn story instead (click print edition, sex issue, center spread).