Craving Boba?
Emilie Takahashi shares a recipe for boba tea that you can make from home
As a boba addict, I experienced severe withdrawals during quarantine. I had heard the tales of my friends who had embarked on this boba-making journey and was immediately discouraged by the hours of hard labor they were describing. But I was desperate, so when I saw the tapioca flour for 80 cents at my local Japanese market, I caved. The recipe and ingredients were simple: I was able to form a dough, but the two hours afterward of rolling tiny rounds in between my hands was exhausting. Tedious, but worth it. Even without the black dye and the uniform shapes found at a proper boba establishment, the taste and effect was equivalent if not better. If you have resorted to coffee to temporarily mend your sleep schedule, I found that milk tea and a spoonful of boba is a great replacement for when you log in to school in the morning. 
https://www.washingtonpost.com/news/voraciously/wp/2020/06/17/how-to-make-bubble-tea-boba-included-from-scratch/
Recipe: 
Boba- Combine ¼ cup brown sugar and ¼ cup water over medium/high heat. Then incorporate ½ cup tapioca flour. Once it forms a sticky paste combine another ½ cup tapioca flour and transfer onto a clean surface. Knead the dough and add water and flour as needed. Seperate the dough and roll into ¼ inch logs. Tip: Put the dough that you are not working on in a bowl with a towel over it to keep it warm and malleable. Then cut the logs to form short cylinders and start rolling those cylinders into round pearls. Boil for 15 minutes and then rinse with cold water. 
Syrup- Mix a 2/1 ratio of sugar and water over medium heat. I used ⅓ water granulated sugar and ⅓ cup brown sugar and ⅓ cup water. Once rinsed with cold water let the boba soak in the syrup for 30 minutes. 
Tip: You normally have to eat them within a few hours after boiling them, but you can freeze the leftover in small portions, and they last quite a while that way. When using the frozen boba, just put the ziploc bags in the boiling water until it's thawed out. 
Leave a Comment
About the Contributor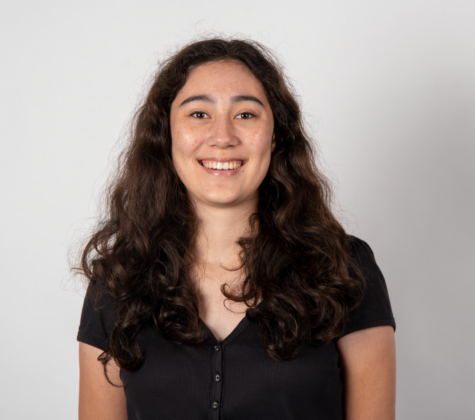 Emilie Takahashi, Features Editor
Hi! My name is Emilie, this is my fourth year on staff and did you know that green onions are super easy to grow in your backyard? Because I didn't know until I told my friend how excited I was about growing...