Dance or die
St. John continues to dance despite the cancellation of her ballet classes
  With hopes of becoming a professional ballerina, sophomore Sarah St. John would dance for 25 hours at South Bay Ballet in Torrance. But with St. John's studio being closed, she took matters into her own hands, continuing to dance as she would in the studio — only without the help of her instructors.
"It's a lot easier to dance in the studio for multiple reasons. For one, it establishes an actual schedule. Also, you have a teacher, someone who really knows what they're talking about and will give you things to work on," St. John said. "But at home, you just have to figure it out for yourself, which is difficult." 
To avoid her skills suffering greatly during her studio's closure, which will last until further notice, St. John plans to dance daily at home. Still, St. John must cope with the hardships of taking a break, however small, from dancing at her studio.
"It's frustrating because you know in the back of your mind that no matter how much you practice at home, when you go back, you're still going to be worse than when you started," St. John said. "It's just different, and there's no way around it." 
St. John is in the senior company at South Bay Ballet, meaning that she is in the most advanced of three groups of dancers at the studio. At her level, St. John must attend 28 dance classes per month or risk being demoted to a lower level— something that happened to St. John when she got sick in December of last year. Although this requirement was alleviated in March due to the coronavirus pandemic, St. John still felt "obligated" to attend class. 
South Bay Ballet recommended that dancers not conduct classes of their own and instead just stretch during the break, not wanting them to get injured or practice bad technique. However, St. John believes that she must practice beyond stretching in order to retain her skills.
"Ballet is so hard to maintain. You can take one day off and be out of shape," St. John said. "It's so hard to maintain that if you don't practice for two weeks, or however long the studio is closed for, there is no way that you can go back and be as good as new. It's scary." 
Additionally, St. John assists lower level dance classes on Saturdays, where she helps the teacher correct poor technique. Utilizing that knowledge, St. John believes that she can practice dancing safely at home.
"There are a lot of things that I can't do at home that I normally would do at the studio. I have to be smart about what I do and what I don't do so that I don't end up injuring myself during the break," St. John said. "But I already have some teaching knowledge, so if I utilize that on myself, then I should be fine." 
Although St. John prefers the one-on-one feedback offered by teachers at her studio, the closure has also given her an opportunity to experience dance classes from the professionals she looks up to. Companies like Ballet Jörgen in Canada, English National Ballet in London, and the American Ballet Theatre in New York are now offering free dance classes on Instagram Live, which St. John believes is a "silver lining." 
"Not only do I get to take classes from the professionals that I look up to, I also get a taste of what classes are like at different companies, which can influence the places I audition for in the future," St. John said. "Through Instagram, you can get an idea of which styles the company emphasizes in the same way you would in an audition. But [Instagram] takes away the stress of an audition while still giving you the same insights."
Another positive result of dancing at home is that St. John can avoid injuring her ankle any further. In June of 2017, St. John was diagnosed with achilles tendonitis, a condition where the tissue connecting muscle to bone becomes inflamed and more vulnerable to tearing. At home, St. John can make adjustments to her usual exercises to prevent her injury from getting any worse. 
"[Class at home] might be better for me because I can give myself a class that can skip things that would cause an injury," St. John said. "If you took a class from a teacher, you can't just decide not to do their steps. But if I come up with stuff for myself, I can eliminate any exercises that would end up causing more problems." 
As opposed to St. John's tendonitis, which required her to wear an ankle boot for six weeks and abstain from dancing, South Bay Ballet's closure will leave her fellow dancers equally disadvantaged and thus able to support each other during their return, according to St. John. 
"It's really frustrating, knowing that you are the only one who has to sit out while everyone else is improving. But now, everyone is going through the same thing, so not only do you have a support system, but nobody is missing out more than other people," St. John said. 
Although her dance studio does not require St. John to dance during the break, she has still made it a goal for herself. To get where she wants to be in the future, St. John will not let the closure halt her efforts. 
"If you come back and you're terrible all of a sudden, you're not going to get good parts or move up," St. John said. "You have to do it for yourself. If you don't care, that's on you, but if it's something you care about, then you can't get complacent and not improve."
Leave a Comment
About the Contributor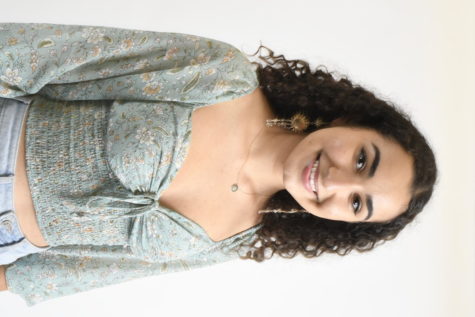 Nadia Bidarian, Editor-in-Chief
Writer, baker, candlestick maker