Dancing to the beat of her own drum
Bradley performs traditional Polynesian dances
When thinking of the word dance, the mind wanders to more modern places like ballet or contemporary. But when sophomore Ava Bradley thinks of it, her mind wanders somewhere more exotic and relaxed. 
Bradley has been dancing for 13 years, starting when she was two. Bradley does Polynesian dances including Hula and Tahitian which requires a lot of coordination with the hips. 
 "A lot of the Tahitian dances include moves like ami, a wide rotation of the hips, and fa'arapu, rotation of the pelvis in a circular motion. It's a lot of hip movement. You have to look pretty and your hips have to go in the same direction at the same time," Bradley said.
Bradley found Polynesian dance through her mom, who also dances the Hula and Tahitian, and her grandma, who owns a dance studio. Both were apart of a big group called Nonosina who have done multiple competitions and have had the chance to go to Hawaii to perform. 
"My grandma and my mom were apart of this famous group known as Nonosina. The group has performed at many competitions in California and has had the chance to perform in Hawaii. After a while my grandma figured out that [Polynesian dancing] was her thing and so she opened up her own little studio [where she teaches]," Bradley said.
Bradley dances in the teen class at her grandma's studio almost every Wednesday, depending on which session she is on. Bradley along with her classmates mainly perform once a year in July, having a couple of weeks of dress rehearsals, and then two days total of performing. The performance is in July and the main performances take place at night. 
"There are different sessions depending on the time of the year. Right now we are around the end of a session but then we start a new session in January where we start learning show numbers for performances in the summer," Bradley said.
Bradley's class is "very small," only consisting of five girls which is half of what a normal-sized class would have, according to Bradley. Although, the small class gave Bradley the opportunity to grow very close to the girls.
"They're my hula sisters so we are definitely close. We know a lot about each other. They've been to my birthday parties, and I would hope they would continue to stay in my life in the future, even after I stop dancing," Bradley said. 
Through dance, Bradley has learned how to work together in a group, and how to rely on her fellow dancers when performing on stage. 
"[Dancing] has definitely helped me be with a group because you have to pretty much look the same as the other girls on stage. [When we] move our hips, they [should] move at the same time. It looks better if we move in unison," Bradley said. 
Bradley plans to continue dancing throughout college, but might take a break after. When Bradley is older, she is going to urge her kids to follow in her footsteps just like her mom and her grandma did to her.
"I would definitely [continue dancing]. I might take a break, but then I would definitely come back after college. When I have kids, hopefully they'll want to do it, especially because it is a family thing," Bradley said. 
Bradley has become closer to her family though dancing, and feels that it has greatly influenced her lifestyle in a positive way.
"Polynesian dancing has definitely made me grow closer to my family. Whenever I go over to my grandparent's house we will go over the counts of the routines. It is also a thing I can bond over with my mom. She will choreograph a little routine with me. It's just fun to spend time with them doing something we all love to do," Bradley said. 
Growing up in her grandma's studio has become a safe place for Bradley because she has been going there since she was two years old. It acts like a second home for her. 
"When I have stuff going on at home that is [stressful], I can just come to the studio, forget about all those issues and just dance. It helps me forget about whatever is going on and I just dance out all the [negative energy]," Bradley said. 
Dancing has acted as a type of relaxation for Bradley. The performances alone help her get energized about dancing, and made her realize that this is what she loves to do. 
"Dancing lets me escape from outside things and just feel the music. It's a nice little getaway, like a nice little break. In the beginning of a performance I get nervous, but then when I get on stage in costume with the lights on me [and my sisters] I get all excited. For me, that's how I get all my energy to do the best performance I can do. I wouldn't want to be doing anything else in those moments," Bradley said.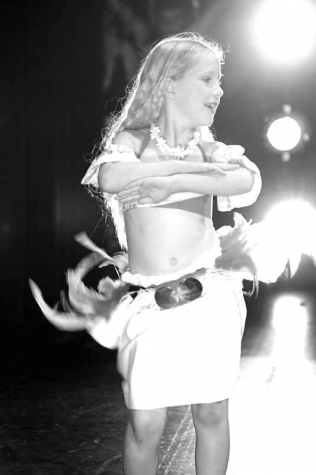 View Comments (1)