Surveillance at school
Students activity on school devices and networks is constantly monitored for better and for worse
The twenty-first century was when the concept of total privacy officially died. If it's on the internet, almost anyone can access it. From looking at a person's search history to tracking down someone's social security number, nothing anyone does nowadays is truly private anymore. And a school environment is no different.
During the last six years, Redondo Beach Unified School District (RBUSD) has supplied students from third to twelfth grade with Chromebooks in order to enhance the learning environment. However, there is constant maintenance involved to ensure these resources are used for purely educational reasons.
The district's IT Department is able to see all search history and everything else students do on their Chromebooks. In order to prohibit any distractions from schoolwork and to keep students from going on dangerous websites, the district subscribes to a web content filter that automatically includes and uploads websites to its database in order to block them.
Senior Kennedy Trawick has enrolled in the Project Lead the Way (PLTW) biomedical pathway, and at times, she believes restrictions "damper" Chromebook functionality because she has to screenshot PDF's for assignments, and the ability to do so was recently taken away.
"We need to be able to use basic functions on the Chromebook like screenshotting and searching things up in order to get where we need to be," Trawick said.
However, it is federal law that prompts the IT Department to protect minors from inappropriate content.
"We're in the business of educating minors," RBUSD IT Director Derek Kinsey said. "We accept federal funding to subsidize our network connections or internet connections. So by law, we have to content filter pornographic material, hate sites, and harmful sites to minors."
Although students are more or less able to deal with the many bans and restrictions placed on their Chromebooks, it still keeps them from accessing all of the Chromebook's features, which causes them to resort to downloading alternate browsers and extensions.
"I don't think we're really hindering our students," Kinsey said. "If a student has some issues with their website content, they usually talk to their teachers. And if the teachers deem it necessary to access these sites, we unblock them."
Anytime anyone attaches their devices to RBUSD networks, the IT Department can see the network traffic going through. Even if a cellular device is connected to district wifi, district rules will still be enforced. According to Kinsey, the right to privacy is taken away because the Chromebooks and wifi that are granted are district property.
"Anytime anyone attaches their devices to our network, we can see the network traffic going through," Kinsey said. "So when you connect to our network, you are not afforded the right of privacy."
Chromebook Agreements are signed at the beginning of every school year, outlining the behavioral procedures and expectations regarding online conduct. Among other things, the following actions are prohibited: downloading apps without teacher approval, revealing personal information, playing games, and instant-messaging others. Therefore, downloading alternate search browsers to bypass district restrictions, online shopping and using social media on school grounds is against the rules.
If these rules are broken, RUHS reserves the right to confiscate district and personal property, including cell phones, if the possession of such property results in the disruption of the educational process.
"We are just behind the investigation of what and how it takes place, while the school sites are responsible for student discipline," Kinsey said.
These policies also prepare students for the corporate world because when employers give employees a laptop or a telephone, they have no rights to privacy. That employer can view any of that information at any given time.
"We understand our students will make mistakes," Kinsey said. "But when students leave high school and go into the real world, they have to know that companies do monitor employees to make sure they're doing work. It's not just arbitrarily we want to block things on the Chromebooks to be mean. We want to make sure our students are safely browsing online."
Leave a Comment
About the Writers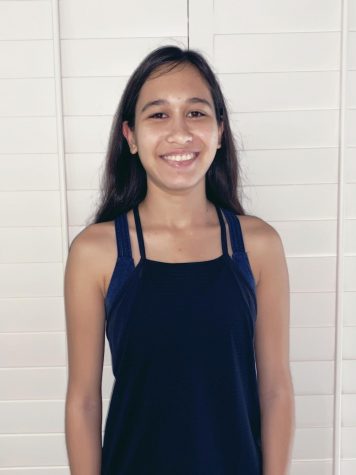 Trina Kolas, Writing Editor





This is my first year as a writing editor, and my third and final year in journalism. I'm the president of the Creative Writing Club, and I love reading, cartoons/animation, and making characters...