An unbelizebale teacher
Biology teacher Kelly Lewis shares his love of learning with students
To some, biology teacher Kelly Lewis may be considered a daredevil- he has skydived, snorkeled the Great Barrier Reef, and explored the rainforests of Costa Rica, just to name a few activities. But in reality, he simply loves learning.
"My to-do list changes all the time, and if I hear about something or learn about something new, I'll try it," Lewis said. "There are so many potential possibilities that teenagers have in life, so it's fun helping to guide kids to a future they want to be a part of."
Combining his passions for both learning and traveling, Lewis takes students on summer trips around the world. He began the program in 2015 and has traveled to Costa Rica, Belize, New Zealand and Australia.
"It's been surreal. One of the best decisions I've ever made is starting to lead these trips," Lewis said. "It's not easy by any means, but it's fun and worthwhile for both me and the students."
Lewis works with outside companies to plan the trips, often planning them years in advance. He looks at destinations with high levels of biodiversity and creates a schedule filled with activities like hiking, snorkeling and white water rafting, while also planning activities that better explore the culture.
"One of the main parts of these trips is that I can teach kids with experience more than I can teach them in the classroom," Lewis said. "We learn about different symbiotic relationships in the classroom, and then we'll be walking through the rainforest and a kid will say, 'Mr. Lewis, that's a mutualism!' I get so excited."
Lewis believes that education should be interactive whenever possible. He enjoys learning and discovering the world from a point of inquiry. His hobbies outside of work include skating, biking, painting, cooking and learning new languages.
"I love learning. When I was in high school, one of my best friends and I used to take up a new hobby every summer," Lewis said. "I like being able to get around on my own accord."
As a teacher, Lewis has made it his goal to get students excited about learning too.
"I like it when students see the world from an inquisitive perspective, and they ask, 'why?' I like teaching kids to learn that they have the power and the means to answer their own questions," Lewis said.
Freshman Sarah St. John believes that Lewis' fun personality and strive to teach has made her transition to high school easier.
"He has a really great sense of humor and he makes the whole learning experience fun," St. John said. "It's nice to see a friendly face in my classes, and I think his efforts to get to know his students make him not only a good teacher, but also just a nice guy."
Lewis has been teaching at RUHS for six years. He attends school sports games regularly and always has his doors open at lunch for students, enjoying making personal connections with each one.
"You have to have that sincere desire to get to know your students if you want to become an inspiring leader, often what many teachers get into the business to become," Lewis said.
Although he loves traveling the world with students, Lewis also shows his care and appreciation in other ways. From playing soccer with students during every snack period to decorating his room for holidays such as Christmas and Halloween, Lewis believes that it is the little things that can brighten a student's day.
"I don't teach biology, I teach students. That has to be the foundational philosophy for all teachers," Lewis said. "You have to recognize that regardless of what you teach, it's who you're teaching that matters."
Leave a Comment
About the Writer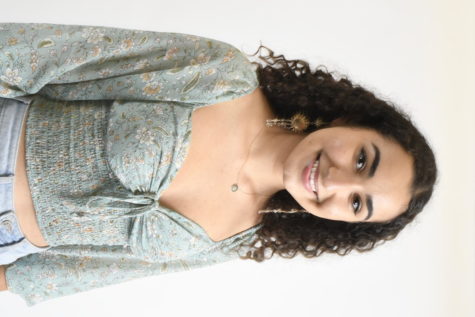 Nadia Bidarian, Editor-in-Chief
Writer, baker, candlestick maker