The Bangtan Boys are back
Korean boy group BTS delivers with "Love Yourself: Answer"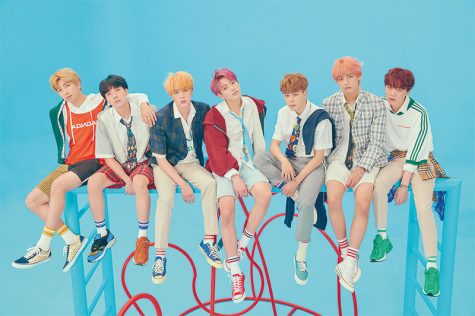 Through their remarkable vocals, poetic lyrics and boyish good looks, boy band Bulletproof Boy Scouts (BTS) has spread the Korean Pop craze to the rest of the world through their groundbreaking album, "Love Yourself: Answer."
Debuting at number one on the US Billboard 200 with "Love Yourself: Tear," BTS  has once again defied expectations with "Love Yourself: Answer," receiving an estimated 1.7 million sales worldwide. An unheard-of accomplishment for any other foreign group, TIME has recognized BTS' talent by showcasing them on the cover of their next magazine with the title "Next Generation Leaders."
Yet the secret behind BTS' overwhelming success has been a mystery to many; after all, contemporary pop culture has had a mostly American influence since the 20th century. For the first time in modern music history, non-Western, non-English speaking artists are dominating both American and global music charts — the answer to such a phenomenon lies in each member's inherent individuality, which is encompassed in their latest album.
With seven members each having a song to himself, the focus of the album is placed as much on the group as it is on the individual BTS members, thus ensuring no member eclipses the others. When they are singing together, the voices of the rappers — J-Hope, Suga and RM — and the vocalists — Jungkook, Jimin, Jin and V — blend together to create an exceptional symphony of acute tenors and rich, deep baritones.
Jungkook's solo piece, "Euphoria," starts the album off on an optimistic note. The melody contains upbeat guitar and piano riffs that are complemented by Jungkook's breathy falsetto, allowing for a smooth transition into J-Hope's solo track, "Trivia 起: Just Dance." With funky beats reminiscent of his "Hope World" album released back in March, the rapper explains how his love for dancing shaped him into an idol.
However, "Epiphany," a solo ballad by Jin, better encompasses the album's overall meaning of self-love. The song is accompanied by a soft acoustic guitar and low piano riffs while Jin sings, "Why did I hide my true self? / I'm the one I should love in this world." Reflecting on his past hardships and insecurities, Jin experiences an epiphany in which he realizes that the key to loving others and living happily is first learning to love himself.
While the members' solo songs highlight their individual strengths, the lead single "IDOL" displays their powerful group dynamic. A fast-paced hybrid of vibrant African-Korean beats and rhythms, it is hard not to play this pop hit on repeat.  With lyrics like "You can call me idol / No matter what you call me / I don't care," BTS acknowledges themselves as people rather than as celebrities, a sentiment that is also shared in the album's final track, "Answer: Love Myself."
Having spent over two years working on the three "Love Yourself" albums, the amount of blood, sweat and tears put into each of them is clearly shown through the profound meanings behind the lyrics. Yet this is not the first time BTS has shaken the music industry — in fact, their 2016 certified platinum "Wings" album sold 1.5 million physical copies worldwide. This is especially border-defying since BTS represents a minority that is typically overlooked in mainstream culture. By setting the standard for what an internationally famous boy group should be, BTS is paving the way for more diverse acts to step up in the future.
Leave a Comment