Living up to the hype?
The 900's offer new appliances to students, but also bring some complications
After a year of noise and construction, the 900s building was finally finished in August.
English teachers Emily Krueger, Angie Yi, Cassandra Jones, and science teacher Salwa Sabet were chosen to receive classrooms in the new building.
"I love the new building. It is spacious and I love the high ceiling because it gives the illusion that the room is even bigger," Yi said.
A notable feature, according to Yi, are the desks and chairs which both have wheels on the bottom, making them easily maneuverable.
"It's almost revolutionary. I have them set up in groups of twos and threes so it's really easy for me to tell the students to have conversations with their group members and form bigger groups. The time that I save putting students into groups is really remarkable," Yi said.
Another useful part of these new classrooms is the storage space, which is built in around the whiteboard at the front of the classroom. "It's genius, very practical and saves space," Yi said.
An added feature to the buildings are the giant projection screens powered by solar tubes, according to assistant principal Dargen.
However, there are downsides to the new building, according to some students and teachers. While the large windows on these new classrooms are visually appealing, they can be "annoying because they let so much light in," according to junior Tatum Davis who has a Multicultural Literature class in the new building.
"The natural lighting is great but I can't wait for the curtains to come in because the sunlight shines on their chromebooks so they sometimes can't see their screens," Yi said.
Although Davis likes the new building, she believes it was "hyped up" to be more superior to the other classrooms than it actually is.
"Looking back on it, I was on the fence about taking two different classes but when I found out that one of them would be in the new building I picked that one," Davis said. "I really like but I regret making a decision based on the location."
Despite getting one of the new classrooms, Yi believes that what is most important is the people in it and the memories made.
"The main difference would be first world problems like air conditioning and rolling chairs and desks," Yi said. "At the end of the day, a classroom is just four walls. It's the kids who really make it awesome and the comradery that we form."
Leave a Comment
About the Writer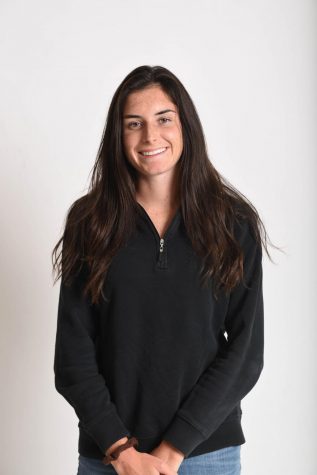 Analise Asaro, News Editor
I was a writer my first 2 years of Journalism and now I'm a news editor. Outside of school I play soccer and do Mock Trial.