Jordan Jackson writes and records original songs
Sitting in his recording studio and tuning out the world, senior Jordan Jackson writes and records songs in hopes of making his mark in the music industry.
Jackson decided to start songwriting and recording four months ago, finding inspiration through his brother's music taste.
"I was very influenced by my older brother, he has been putting me on to a lot of music ever since I was little," said Jackson. "He wanted to rap as well when he was younger, but he decided it wasn't for him. But he thought that I might like to do it, and he suggested it to me and I tried it out and I loved it."
Along with his brother, artists with good judgement in such a "cut throat" industry have also inspired Jackson to pursue his musical career.
"I look up to a lot of artists especially the ones who are smart with the decisions they make within the industry," said Jackson. "An example would be Drake. Drake has been around since I've been a kid and has never made a wrong move. He is smart and one of the most relevant and versatile rappers right now."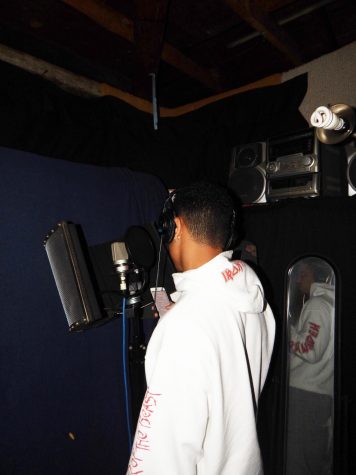 Being new to songwriting and recording, Jackson is still discovering and playing between different music styles.
"Since I started not too long ago, I'm still trying to find my voice and how I want my style to be. I definitely want my music to be slow but also very flowy," said Jackson. "Good music is different for everybody but I want people to be able to vibe to my music as well as turn up to it."
Jackson hopes to make his music more personal to his life and share it with the world in the future.
"I definitely do want to do this as a job when I get older," said Jackson. "But this is also a way for me to get my foot into the entertainment business because I really want to act as well but I love to make music. I enjoy it and there is something about making something that is yours just that much better. Eventually I want to be at the level where everyone looks towards my music as something relatable."
Becoming more acquainted with the songwriting process has altered Jackson's view of music.
"I definitely listen to music differently and wonder what goes into making a song," said Jackson. "I'm always thinking about lyrics in my head and what sounds good or what resonates with people."
Jackson first started off on SoundCloud but is now shifting to also make music videos that align with his music style.
"I recently deleted all my music because I'm re-branding myself as of right now, I changed my name and I want my music to sound clearer," said Jackson. "I'm dropping a music video with a friend of mine that has a summer time feel to it. It will be out in about a month and a half, around the time I graduate."
Having to come up with lyrics and ideas and also commute to Downtown, Los Angeles in order to get to his recording studio, Jackson has less downtime.
"It is extremely time consuming, I don't even go to parties the same anymore," said Jackson. "I'm always trying to make connections or promote myself in some way and when I'm not doing that I'm either writing or recording."
Jackson believes it is important for artists to use their platforms to raise awareness and prefers to create lyrics about societal issues, such as drug abuse. 
"Everyone channels something they're passionate about into their music and for me that's drug abuse," said Jackson. "It is so relevant to people our age and it's definitely relatable."
Leave a Comment