Ready To Roll
Beach Cities Robotics Team 294 heading to first tournament of 2018
The Beach Cities Robotics Team 294, comprised of students from RUHS and Mira Costa High School, will be competing at the For Inspiration and Recognition of Science and Technology Robotics Competition, or FIRST, in Orange County the weekend of March 24 and 25.
This will be the first of the team's two competitions in 2018.
"We haven't had a competition yet, so I'm not sure how we will do in the actual match, but I'm pretty hopeful; I think our robot is pretty good. Our drivers have also practiced a lot and have gotten pretty good as well," lead of the team's mechanical branch Logan Hayes, junior, said.
The team was informed of which game was chosen for the competition back in January. From there, they had six weeks to build a robot to compete with.
FIRST's competition game for 2018 involves putting cubes on a scale in an attempt to tilt the scale in the team's favor.
"Our robot is really good at doing the high scale in the middle. We can also pick up a cube in front of the robot and swing over to drop it off in the back and it's really good to have that versatility," Hayes said.
The team has engineers currently in the workforce — their mentors — to help supervise the actual building of the robot.
"I love the mentors. They're great and really supportive and sacrifice their own time just to help us. You can learn a lot just by being around them," sophomore Daniel Hatakeyama said.
The team's unity is a big contributor to the potential success in the competition.
"We have a really strong mechanical and programming team and just a lot of experienced people overall. Most of us have worked together over the last couple years. We're a cohesive team and we all work well together, which is a huge strength," Hayes said.
The team works so well together, that it is more like a family for both Hayes and Hatakeyama.
"You feel like you're part of a new community and like you have a new family," Hatakeyama said. "There's a lot of team spirit, so it's a really nice atmosphere. We all work really hard, but play really hard too."
Team 294 has more members in 2018 than in previous years, so team leaders have to balance teaching new members with preparing for the competition.
"No one knows everything, so it's all about finding the balance between helping and getting things done quickly and correctly. We want to leave behind a strong team when we graduate, so it's really important that we keep everyone involved and having fun," Hayes said.
Although she feels "hopeful" about the team's chances at winning, Hayes cannot help but feel a bit "apprehensive."
"I'm super excited and I cannot wait, but I'm also super nervous. I don't want anything to go wrong," Hayes said.
While the team is looking forward to the competition, they also cherish the experience of working together and competing.
"I'm really proud of all the hard work everyone's done. I'm really thankful that I got to be a part of this team and that I get to compete with everyone. I think we're going to kill it this weekend," Hatakeyama said.
Leave a Comment
About the Writer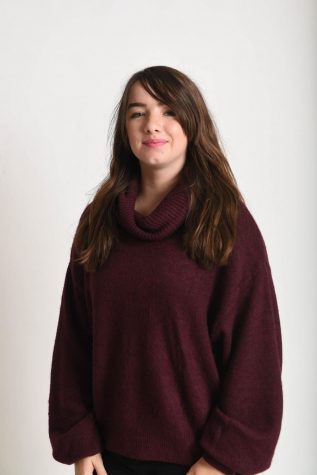 Grace McGonigle, Features Editor
Hi I'm grace. My personality is mainly comprised of a busy schedule, buzzfeed quizzes, and Jeff Buckley.