Stay Together
Senior Drake Brown stars as the male lead in Noah Cyrus' latest music video
Senior Drake Brown is not only the king of fashion; he is an accomplished actor. He recently landed the male lead role in Noah Cyrus' new music video for her song "Stay Together."
"I was sort of her love interest. I was just kind of the guy that was with her in every scene. The whole video was just a night of teenagers having fun, running around and wreaking havoc," Brown said. "It wasn't even acting we were all just legitimately having fun the whole time and playing around."
Brown did not audition to be in the video. His agent surprised him by contacting him and telling him that he was being considered for the part. It was between Brown and a few other actors who were all picked based on their style and how well they would fit in with the rest of the cast.
This was Brown's first time working on a professional set, causing Brown to feel slightly "nervous," but his nerves were settled once he got on set.
"It's a lot of exposure for me, and it was cool being on a real set. We had a police escort for all the scenes in the car," Brown said. "It was a really cool experience, and Noah was really cool. I met a lot of new people."
The filming began at 1:30 p.m and ended at 4:30 a.m. Brown feels that, while many people think acting and modeling are "easy," they require a lot of effort.
"We had to drink a ton of coffee to stay awake; it was pretty intense. Everything looks so basic when you watch it back, it seems like we did a few takes and that was it, but you have to film the same thing over and over to get it right," Brown said.
When Brown was given the part in the video, he was asked to come in to film the next day, giving him little time to prepare.
"They didn't tell me a single thing; I had no idea what I was doing. All they said was that I was the male lead, so I didn't really do anything to prepare; all I did was bring clothes," Brown said. "The clothes I wear in the video are actually all my own clothes. The label stalked my Instagram and they loved my clothing and style. I styled myself and that's pretty much all I did to prepare for it."
Due to his previous experience on sets as a model, Brown felt "well prepared" and "confident" while acting in the video.
"[My modeling experience] definitely helped with my confidence. I had already had experience on sets so even though this set was way bigger than usual I still had some experience [being on sets] from my previous work and [I also had experience] listening to what directors want and portraying the right emotions," Brown said.
There were some new challenges Brown faced while filming since it was a new environment that required him to utilize acting skills more than modeling.
"The kind of modeling I do is more edgy, so it's not so much showing emotion as it is kind of lifelessly standing, but with this, the camera is always rolling so even if you're not in the main shot people are still going to be able to see you," Brown said. "With modeling, you can take a break between the camera clicks but with [acting] you always have to be on. It was very cool, and it wasn't too hard to transition from modeling to [acting] because the job itself wasn't too hard."
The video has over 3.4 million views on YouTube; Brown hopes that the exposure he will gain from his involvement in this video will jumpstart his career in the entertainment business.
For Brown, this experience helped clarify what he wants to focus on in his career.
"[I want to have a career in] modeling or acting; I'm not that fond of acting, but if it was a job like this, where it's fun and easy to do, then I'd love to do it. I'm into modeling and the whole entertainment industry," Brown said. "I'm trying to use modeling as my in and get bigger and then get into management, styling and things like that. A lot of people saw my face, so it's pretty cool. It'll help me with experience and it adds to my resume so more people will want to hire me."
Leave a Comment
About the Contributor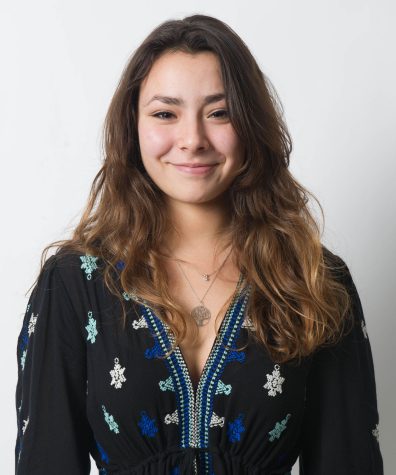 Amanda Ban, Staff Writer