Senior Jarus Lorenzen professionally writes and records music
His most valued part of creating music is the process of writing the lyrics to his songs. Senior Jarus Lorenzen expresses himself through his passion for music.
"My favorite part is being able to arrange different words together and come up with different ways to express an idea," Lorenzen said.
His interest for music began when he was 10 years old, when he was influenced by his family and has been practicing music since he was 12 years old.
"It all started when I would go out to Arizona every year and my cousins were constantly making music and I would just sit in on their sessions and listen to them for hours," Lorenzen said.
Lorenzen has worked with Universal Music Group, Sony Music, Warner Brothers Music and Interscope Records to record his  pop music.
"I have been noticed by the top labels in the world but I primarily record at studios in North Hollywood or Van Nuys," Lorenzen said.
According to Lorenzen, his producer Rodney Jones Jr. was contacted by people working with Austin Mahone asking for his assistance on a song. The song didn't make it onto the album because it sounded too similar to another one of Mahone's songs.
"They drove me to Van Nuys where the studio was and played me the song once and then said, 'Okay, now you go in and record the song.' I did get a chance to work on his song, but unfortunately he wasn't in the studio with us that night," Lorenzen said.
Lorenzen began self-teaching on the guitar after he requested one for his twelfth birthday.
"My parents bought me a guitar and I would sit on my computer for hours on end looking up chords and songs to learn how to play a variety of different things," Lorenzen said.
His interest for instruments expanded when he was 15 with the piano.
"I just transferred what I learned from guitar and started messing around on piano, trying to match those exact sounds," Lorenzen said.
At the age of 14, Lorenzen began recording music as his passion for music grew.
"I had no clue what I was doing, I would record stuff but never ended up liking the way they came out since I didn't know how to produce and I didn't know where I wanted to go with any of the songs," Lorenzen said.
Lorenzen was driven to make music after realizing the impact songs can have on someone.
"The variety of music I was listening to inspired me to learn and make music. I loved the way you can take a simple idea and turn it into a story–and create something new and original that someone will listen and can relate to in a lot of ways ," Lorenzen said.
Lorenzen believes his passion for music goes deeper than having a YouTube channel with a lot of followers.
"It's not just something I make because I can; music is a lot more than a catchy song. Every song has a meaning behind it. Every lyric I write and every chord I play have different meanings behind them," Lorenzen said. "I write my songs based off of personal experiences, it makes for a better song that way. I started pursuing it because I love everything about music, from making to just listening to music."
According to Lorenzen, his producer discovered him from the Instagram page that he frequently posts his music on.
"I had one meeting with him at a studio and he immediately took me in. So far we have four original songs recorded and finished 16 more originals still to be recorded," Lorenzen said.
Lorenzen works on recording his songs with audio engineer, Deon Brown.
"Jarus is an artist that has great potential, I see good things coming into his future. He has an organic style for pop music and I honestly can say I see some urban vibes in there too, but I won't  give away too much," Brown said. "Overall I see Jarus not only as an artist but as a friend and he will show you why he's going to shock the world."
Along with all his achievements that have come, Lorenzen devotes the majority of his time to creating music. In order to have the time to spend in the studio, Lorenzen manages to complete most of his homework during school.
"It has been a crazy process because I can show up to the studio around 6:00 PM and we can write one or two songs, record them and have them done in one night. I usually don't leave the studio until 3:00 or 4:00 AM, but the end result is always worth the time spent," Lorenzen said.
Lorenzen plans to promote his work to get it out there and become known so he can inspire others to reach for their goals.
"My ultimate goal is to show everyone that dreams aren't just dreams, and that if you work hard, stay motivated and stay true to yourself, you will go far. That's what happened to me. I've been working on this for over five years and I'm now starting to see huge progressions that make me proud of myself knowing that what I'm doing is leading somewhere," Lorenzen said.
Leave a Comment
About the Contributor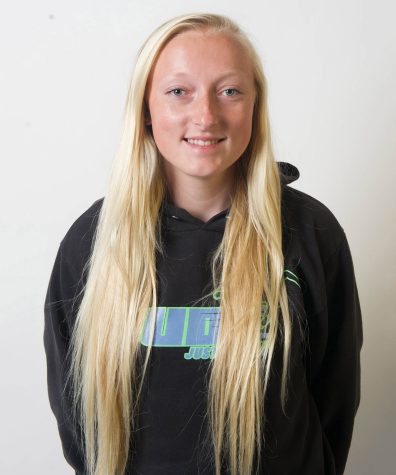 Brittany Baker, Staff Writer
I am glad I have been a part of this staff because now I can use this example to better my writing future by reflecting on this first experience.