A family divided
After Trump's travel ban was initially implemented, Tehrani worried that his parents would not be able to return after their trip to Iran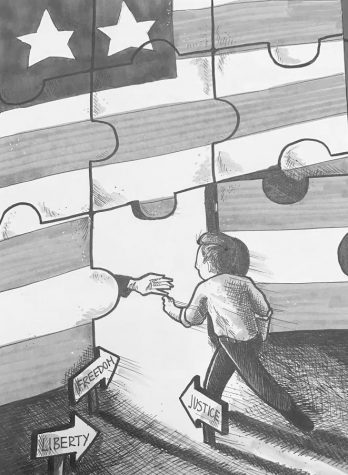 *For confidentiality purposes, the student's name has been changed to Reza Tehrani.
The President's executive order to halt immigration from seven muslim majority countries has had unwarranted effects on many people. Reza Tehrani has found himself torn apart from his mother, who was detained and deported back into Iran when she was waiting for her connect flight in Istanbul, Turkey.
Tehrani's mother flew over to Iran to be with family, and after six months she decided to come back, however the travel ban delayed her a few days.
"I haven't seen my mom in a long time so I got really frustrated and upset, because we all thought that we would have to wait three more months to see each other," Tehrani said.
At first when the executive order was passed, Tehrani didn't think that it would affect his mother's return plans.
"I was not really worried about the travel ban because I thought it would only prevent illegal immigrants, but it turns out that was not the case," Tehrani said.
Tehrani and his parents moved to the U.S. when he was in sixth grade and they have been living here ever since. They are all legal residents and are also one year away from becoming U.S. citizens, so when the executive order was issued, Tehrani didn't think that it would prevent legal residents from coming.
"We did not think that the executive order would ban legal residents so that's why my mom didn't come back sooner," Tehrani said. "We were all just really surprised that something like this happened."
The first time Tehrani found out his mother couldn't come back was when she was at the airport in Turkey waiting for their connect flight. As she was changing flights she was told that no one from Iran is allowed in the U.S. and that she had to go back to Iran.
"She flew to Turkey but when she got there the travel ban became active and she got sent back to Iran," Tehrani said. "I was sad to see that my mother was treated as though she was a criminal."
Luckily for Tehrani, the federal court temporarily overturned the travel ban and his mom was allowed to come back.
"Thankfully my mother didn't have to wait three months," Tehrani said. "When the federal judge blocked the executive order my mom took advantage of it and came back immediately."
When the news reached Tehrani that his mother was coming back, he went down to LAX and took precautions to find out if his mom was going to be deported back when she landed. To his amazement, Tehrani saw many protestors outside of the airport.
"I didn't take any part in the protesting but I was surprised to see the amount of people that showed up to support this cause," Tehrani said.
According to Tehrani's mother, Mrs. Tehrani, the most difficult part about this whole thing was not being with her son.
"All I could think about is that I'm going to be away from my son for even longer, which made me very upset because I haven't seen him in many months," Mrs. Tehrani said. "I was in Iran during the election so I didn't think that Donald Trump was actually going to sign something that wouldn't allow legal residents to come."
Currently Tehrani's mother is back in the U.S.. However, she isn't going to travel back to Iran until she gets her citizenship, so that she can avoid any troubles in the future.
"Because my mother has to travel back and forth, she is just going to have to wait until she gets her citizenship next year, so that she can go back and forth without worrying if she can't come back," Tehrani said.
Even though Tehrani has been living in the U.S. for a few years now, he has completely changed his perspective on the way he and his family travels without citizenship.
"I'm all for protecting America, but if someone has a green card or visa to be here, well they have it for a reason," Tehrani said.
Leave a Comment