Finding comfort
Juniors Daniel Nevarez and Mia Williams share their times at Comfort Zone Camp after experiencing loss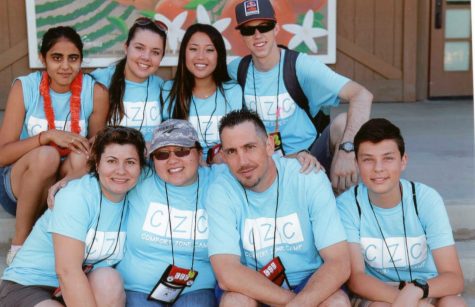 After losing one of the most important people in his life, junior Daniel Nevarez was inspired to channel his pain into helping others who have experienced a loss.
Nevarez decided to volunteer at Comfort Zone Camp, a support camp for kids who have lost an immediate family member.
"Losing my sister definitely impacted me and made me want to be a better person and be kinder to other people. It made me realize that things can be gone in a second," Nevarez said.
The camp pairs a child who has lost a family member with a partner who is 17 or older. The partners are there to help the kids through their difficult times. When Nevarez lost his sister, he first attended the camp and was inspired to volunteer.
"I went to the camp myself and realized how good of a camp it was and how much it can do for some kids, so I decided to become a volunteer," Nevarez said. "My sister was a volunteer at the camp and she had a bunch of friends there that liked her, so when she passed away, I figured it would be a good thing for me to do it too."
Junior Mia Williams lost her mother to breast cancer when she was 10 years old and attended Comfort Zone Camp to help her cope.
"When my mom passed away it was so hard. It affected me a lot because my dad left when I was three years old, so my mom was all I had," Williams said. "It was really nice knowing everyone there had gone through the same thing, so there wasn't a spotlight on me. They made sure we knew it was okay to talk about it if we wanted, but we weren't pressured to talk about it. They made sure we were comfortable and knew we only had to talk if we wanted to. Sometimes they would give you a little push, and you need that in order to get through it."
Nevarez has been involved in organizing activities at the camp and finding partners for the kids. He recently turned 17 and looks forward to being a partner, knowing from personal experience how helpful it can be.
"I went and I realized that the volunteers are all really nice people and they all really care about what they do. Being part of that has really made me grow as a person. I think they change people's lives in ways that they don't even realize, and the kids themselves usually don't even expect the ways that it changes their lives. Words really can't express how great those people are and how much they've helped me," Nevarez said.
After his sister passed away Nevarez' grades began to drop and felt that the loss "really affected" him. The people that Nevarez' sister volunteered with at the camp saw him "struggl[ing]" and encouraged him to attend camp.
"Losing my sister was terrible, and that's why I started going to camp in the first place. They all knew what happened so they suggested that I go to the camp. When I went and saw all the things that they did it inspired me to become a volunteer myself."
Williams was also heavily impacted by the loss of her mother, who she was very close with.
"The toughest thing about losing my mother was that I lost a best friend. She knew everything about me. Because I was so young when she passed, more than half of my life was spent with her. I loved my mother dearly; until this day, I can't believe she is gone. I wonder how my life would differ if she were still here. I think about her, and often cry because I think not only 'why me,' but 'why her?' She taught me everything I know, how to be strong, how to stand up for myself, how to get what I strive for, and most importantly she taught me how to love," Williams said.
The camp's purpose is to provide a safe place for kids to talk to about the emotional impact of losing someone, but it also provide activities for the kids to do in order to take their minds off of the difficult time.
"You do fun things like ropes courses and games, and at certain times the kids talk to you about their loss and tell you what's going on at home and how they feel. It's great because it provides you with someone to talk to that you might not have at home and lets you talk about things you might not usually be able to talk about," Nevarez said."The purpose is to help you emotionally get through it. Not everyone has someone to talk to."
There is a camp every few months, each one lasting three days and two nights. It is free for all who attend and is organized by a large group of volunteers.
"All the volunteers are really caring good people and they're there for you to see how you're doing and what's going on with you,"  Nevarez said. "When things get really hard and you get thinking about it you can go to this camp and let loose and think about how you feel. It helps you get back to your normal life because you know you have somewhere to go and people to talk to. People may not realize all the ways that it affects you when you lose someone close to you and you may not know that someone has suffered a loss, it may be harder on them than you think."
Nevarez believes that the camp positively impacts both the lives of the kids who have lost a family member and the volunteers.
"I saw how much they were helping kids and I wanted to do that myself and make a difference in somebody else's life the way that they did for me. The volunteering and the people have had a lot of influence on my life. It's definitely made me a better person and it's made my life more enjoyable. Seeing other people have the same struggle and the way that they can help me and I can help them without even realizing it, just by getting close because we've had the same experience has been amazing," Nevarez said.  
Williams agrees that going through the camp and being around kids in a similar situations gave her the support she needed.
"It helped so much knowing everyone there had gone through similar things and that they weren't going to tell you how to feel, they were just going to help you cope with your feelings," Williams said.
Being able to help other kids who have experienced a loss has been very "rewarding" to Nevarez.
"I love watching these kids grow. At the beginning they're all super shy and they don't want to say anything or do much; then, you see them at the end of the camp, and they're having fun talking to other people, and they are able to openly talk about their loss," Nevarez said. They are able to say 'Yes, I miss this person, but it's okay because I have all these other great things in my life.' It's great to watch them transform."
Leave a Comment
About the Contributor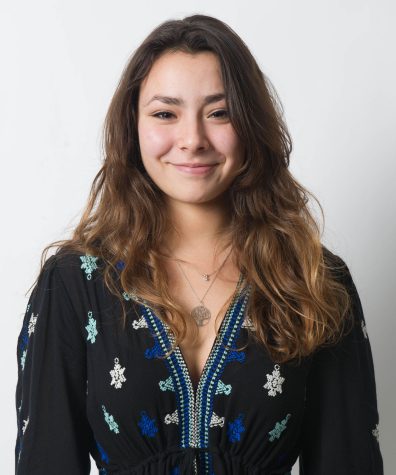 Amanda Ban, Staff Writer