The spirit of giving
RUHS PTSA and RBPD participate in Thanksgiving Food Drive
As the holiday season approaches,  so too does the spirit of generosity, and local organizations have already begun giving back. 
On Nov. 21, organizations such as Freedom4U and Hearts Respond partnered with Redondo Union PTSA (Parent Teacher Student Association) and the Redondo Beach Police Department to host a Thanksgiving Food Drive, aimed to ease the financial burden the holiday can have on some families. 
The event was held in the Redondo Beach Police Annex parking lot next to the RUHS auditorium, where lines of cars waited to give what they could and volunteers gathered to package the donations. 
The two organizations that hosted the event, Freedom4U and Hearts Respond, are non-profit organizations focused on helping youth develop life skills and explore their identities, while providing them with a safe place to be themselves. Founded by therapist Dr. Greg Allen, the two organizations operate in the South Bay and LA Harbor area.
"The focus on gratitude and thankfulness during the Thanksgiving season ties in with the food drive," Allen said. In addition to "caring for your family," it's vital that you "care for your community" as well, according to Allen. All the donations were given to families at the Wilmington and San Pedro Boys and Girls Clubs. Donations included everything from stuffing to gravy and cranberry sauce. 
"It's a really big benefit to[the families] during Thanksgiving, as they probably don't have a lot of the things that we're going to be giving them," Allen said.
According to Allen, the "real goal" of the food drives isn't about how much food is gathered or about meeting any numerical goal, but coming together as a community for a common cause.
"Seeing what happens to [the families and volunteers] as you give and as you open your heart changes your perspective on life and makes you feel valuable. I like to see the excitement and enthusiasm in the people that are helping and the people that are receiving," Allen said.
Allen expects people will be more willing to help as a result of the pandemic, as being hit with shared hardships has, according to Allen,  made our community more sympathetic to the struggles of others.
Junior Sophia Perez, a volunteer at the event, is excited to be able to help her community again after COVID-19 restrictions kept her from it for over a year.  She discovered the event through her connections in Girl Scouts, and from there she began to gather donations.
She posted on social media in order to "get the message across to locals that there was going to be a food drive near the high school and that [she] could help pick up and drop off their donations."
According to Perez, her efforts were well worth it, and she was happy to give people an opportunity to donate.
"I wanted to give back and I have a lot of free time to do so," Perez said. "I just think that it's best to make a good impact whenever you can." 
Leave a Comment
About the Contributor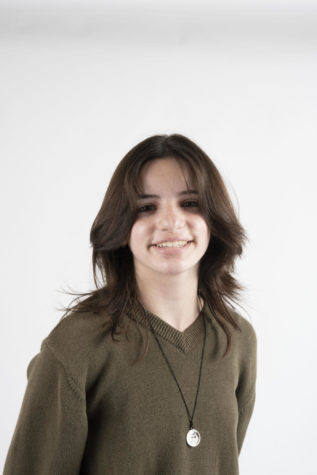 Ella Silberling, Staff Writer
I'm a freshman and a staff writer. I like cats, sleeping, and learning about the world.